To trade show or not to trade show? If you've ever manned a trade show booth, but more importantly if you haven't, these insider jewels of information are designed to offer insight into what's involved when deciding if a trade show is a smart marketing option for you.
82% of Attendees Recommend or Influence Purchasing Decisions
Let's begin with the basics…. what exactly is a trade show?  A trade show represents a chance for companies within a specific industry to gather in one space to introduce their product or service and demonstrate its value. It provides an opportunity to enhance a company's brand to an audience specifically targeted towards their product or service. Serving as a platform for meeting potential new customers, it also offers exhibitors a means for reconnecting with existing customers.
When thinking about the people you'll meet at a show, be prepared to take an earnest interest in learning about them and what their needs and habits are. The single most important thing a show attendee is looking for is a solution to a problem. If your service or product addresses their problem, they will buy it.
According to a 2017 study conducted by Statista, 82% of trade show attendees have the power to recommend or influence purchase making decisions.
These tips will assist you in ensuring a positive experience as a trade show exhibitor:
1) Right off the bat, find the right tradeshow. Do your homework to ensure the show is a good fit for your brand. There's no gain in pitching your product or service to people who just aren't going to be interested in it.
2) One of the most important reasons you're exhibiting is to gain exposure and acquire leads, so create marketing materials and a booth concept that draws attention. Remember, first impressions are lasting so put concerted effort into your booth's creative design. Booths today aren't what they used to be, nor is their manufacturing; and it's competitive. Rollup cases are manageable, travel efficient and will save on shipping expenses. You can literally roll them up and hand carry them with you.
3) How many people will be working with you at your booth? Having plenty of assistance is a plus so you're able to connect with every visitor. If you don't have the additional personnel on your payroll to assist, national event companies offer reputable, local staff who can assist and serve as an extension of your company. With a little training, this staff can be invaluable to you. While you're busy meeting potential new customers, your hired staff will be stationed alongside you, greeting visitors and collecting lead information so that you can follow-up with them after the show. Enlist your team to ask for visitors' business cards for a prize drawing at the end of the show. This is an easy way to acquire leads. People love prizes!
4) Draft an outline of your plan and set a budget. Your decision to participate in a show doesn't have to break the bank, consider it an investment. Well in advance of the show, reach out to current and potential customers and let them know you'll be exhibiting. Provide them with your booth number and set up appointments to meet so you'll have a plan for interacting with those attendees who clearly have a vested interest in your product or service.
5) Trade show attendees love being on the cutting edge of what is new and innovative in their respective industries. Be prepared to showcase any new services and products you have at the time of the show. Many shows offer exhibitor awards. When registering for the show submit award entries for categories that would be applicable, ie: Best New Product, Most Innovative Service, etc.
6)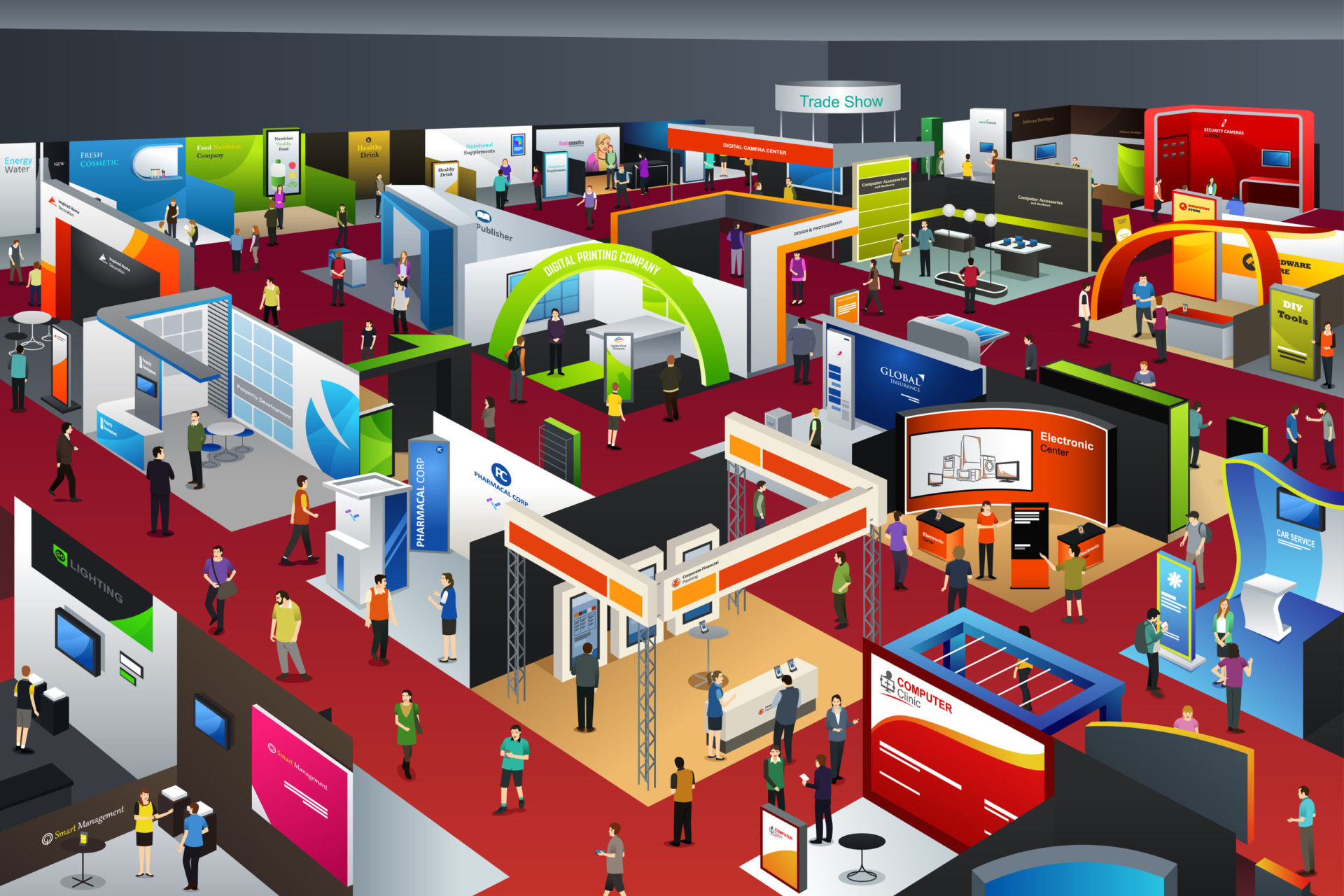 Location, location, location! Show sponsors will be given first choice of booth location and there are a lot of theories as to how to best position your brand on the show floor. Worthy of mentioning is that if you can select a spot near the entrance, you'll have the first shot at capturing visitors as they enter the show. If you're able to select an end cap spot where you will have driven traffic on three sides of your booth, this positioning is optimal. Do your best if possible to not to align your booth directly next to a competitor. Why put yourself under that kind of pressure?
7) Word of note to anyone whose had the experience of working long days or multiple days on the show floor; think of your feet. Regardless of how comfortable you think your shoes are, it's tiring and taxing on your feet. Consider putting an extra layer of padding under your booth carpet and plush carpet is great if you can squeeze it in your budget. A couple of chairs won't hurt either. Not only you will be on your feet for long hours, so will your attendees. Being able to offer a place to sit and converse is a plus.
8) Having additional help stationed at your booth means you can participate in the show experience which is a genuine opportunity to learn. Walk around, take in what you see other vendors doing. Notice those booths drawing the most attention. Lean in. Listen. See what your competitors are doing. Pick up copies of their marketing materials so that you can compare their offers and pricing
9) Consider your indirect and direct ROI. Begin with what I like to think of as soft exposure returns. As an exhibitor, your brand will be exposed to a massive audience as well as included in the marketing material and PR associated with the show. Review your list of leads and determine which ones are earnestly interested in your product. Repeat participation in industry specific tradeshows will garner a presence within your business community. The more positive brand recognition that your product receives, the more credibility it earns.
Direct ROI requires thoughtful pre-planning and budgeting. Set achievable goals that can be tracked after exhibiting including measuring website traffic and email metrics to monitor click through, opt-out and lead to conversion rates. Consider all identifiable costs including booth space, marketing materials, hiring event staff, shipping, transportation and lodging. Factor in those costs and determine how many sales you will need to generate for the investment to be financially worthwhile.
10) Keep the synergy moving. Reach out to your leads and contacts within a few days so they remember you and your product. Email communication is preferred. Keep your communication short and to the point, addressing who you are, identifying your booth and referencing a reminder of your having met, ie, "We're the company that helps companies like yours with XYZ..". Attendees meet a lot of people at a show, so you want to stay in the forefront of their minds and provide a personalized, courteous follow-up.
For a complete list of 2018's Trade Shows, Nimlock's Directory serves as a helpful resource. Happy Trade Showing!
I'd be curious to learn some of your first-hand accounts of what has worked for you and what hasn't when it comes to exhibiting. Please feel free to share your insight here.